Hair loss treatments can be with topical, in-clinic treatments like Regenera Activa, PRP, Laser Light, Oxygen Therapy, oral medications, or surgery like hair transplant procedure. Dr. Batul Patel's The Bombay Skin Clinic provides world class hair loss treatments in Mumbai performed by specialist trichologists and trained technicians.
All of us loose some hair, and a loss of about 100 hairs per day is quite normal and need not look alarming; but higher than that can be upsetting. Hair loss has many causes and both sexes are equally affected. Hair fall can be hereditary and can be gradual. Hair loss can be sudden if it is due to diseases, hormonal imbalance or medicine side effects, like from chemotherapy.
Hair fall treatment options at The Bombay Skin Clinic are as follows
Non Invasive Hair Loss Treatments
Stem Cells
Laser Light (LLLT)
Oxygen Therapy
Micro Scalp Stimulation
Hair Fall Treatment Medications
Minoxidil (Rogaine) – topical – to be applied to the bald patch twice daily for hair growth. Decrease in dose reduces efficacy and discontinuing results in regression. Used in –

Female pattern baldness.
Male pattern baldness.
Alopecia areata.

Finasteride (Propecia) – oral – this is a prescription drug for treating hair loss specifically male pattern baldness; this helps in restoring normal growth.
Antiandrogens like  cyproterone acetate,spironolactone,flutamide in female pattern hair loss.
Corticosteroids –

Injected to the bald spots for alopecia areata.
Topical – ointments and creams.
Oral – but has side effects.
Intavenous-for alopecia universalis.

Contact immunotherapy for alopecia areata.
Psoralen with ultraviolet A light (PUVA) therapy for alopecia areata.
Restoration procedures for hair treatment
Hair transplant.
Follicular unit transplantation
Punch grafting
Scalp reduction.
Scalp flaps.
Tissue expansion.
Cosmetic approach to hair loss treatments
Using wigs, toupees.
Styling like perm.
Dyes, coloring.
Tattoos.
DIY Hair Loss Treatments
There are a wide range of natural and organic products that you can use to help partially alleviate hair fall specifically in terms of ingredients containing specific nutrients like vitamins, minerals etc.
Treating underlying hair fall conditions
The hair fall treatments aimed at hair loss prevention, encouraging hair growth, and covering bald patches.
If hair fall has been due to underlying diseases, your physician will start treatment. Once the medical cause is treated successfully, hair grows back.
For scarring alopecia, an early diagnosis and successful treatment of lichen planus or discoid lupus can help to contain the hair loss.
In alopecia areata, hair grows spontaneously and treatment is aimed at speeding it. Treatment includes topical, oral medications and immunotherapy generally.
In telogen effluvium, dealing with mental/emotional stress and coming out of traumatic physical conditions like surgery, illness, high fevers, avoiding hair-loss causing medicines, and stopping crash diets etc can stop hair loss and hair may grow spontaneously.
Hair loss due to chemotherapy gets reversed with stopping the therapy.
Eating a nutritious, balanced diet, with adequate iron, proteins and vitamins, and taking good, gentle care of hair will help avert/stop hair loss.
Types of hair loss
General hair fall is called alopecia. Hair loss can be of two types; scarring alopecia and non-scarring alopecia. Hair loss is permanent in scarring alopecia with irreversibly destroyed hair follicles. Non-scarring is temporary with no hair follicle destruction and hair mostly growing back normally.  Types of hair-loss are
Male pattern hair loss (androgenetic alopecia).
Female pattern hair loss (FPHL).
Telogen effluvium (TE).
Chronic telogen effluvium (CTE).
Alopecia areata.
Alopecia totalis.
Anagen effluvium.
Congenital Hypotrichosis.
Scarring alopecia.
Hair fall triggers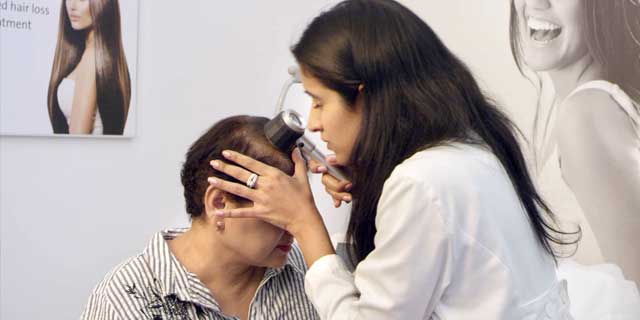 You should keep a close watch on any triggers that you notice which might be causing hair fall. You could try out some DIY hair loss treatments to avoid further hair fall. Triggers that can cause hair loss are
Autoimmune conditions.
Hormonal changes.
Age.
Physical stress including surgery, illness, high fever.
Burns.
Mental trauma.
Chemotherapy.
Hair damage like by pulling hair back severely, using tight hair bands, curling irons, dyes etc.
Poor diet, insufficient in iron, protein, micronutrients.
Thyroid conditions.
Ringworm infection.
Rapid weight loss.
Who can be affected?
Male pattern baldness affects nearly 50% of the male population past age 50 years.  FPHL is more common in women after menopause and causes diffuse hair loss along with TE and CTE. Alopecia areata can be common in age group between 15-29 years. Scarring alopecia is common in adults whereas ringworm is most common in children. Congenital Hypotrichosis is genetic; linked with other medical conditions. Hair loss treatments in Mumbai done in the early stages of hair fall can help prevent worsening of the condition.
References – 1, 2, 3, 4, 5 & 6.
Hair loss can happen gradually or suddenly and can have diverse causes. Signs and symptoms differ depending on the causes and other factors.
Signs & symptoms of hair loss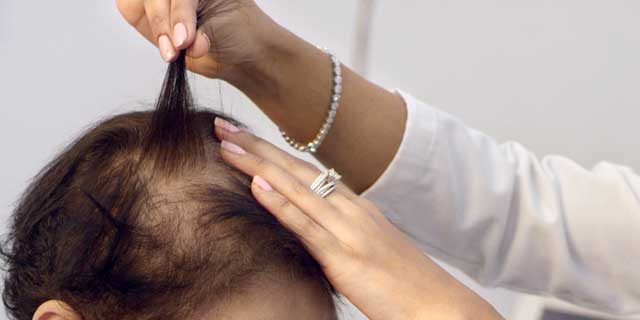 It is advised to consult with a trichologist as soon as you notice any symptoms. The hair specialist will help you to understand all the various treatments for hair loss. Hair fall can occur with different symptoms like
Androgenetic alopecia (male pattern hair loss) – gradual and diffuse hair loss; can start from early twenties; hairline starts receding like letter 'M'; hair loss is along frontal hairline, temples and on the crown gradually; left with hair only around  ears, back and sides; sometimes complete baldness results.
Female pattern hair loss – for some women, may start after menopause, but general and diffuse thinning can start early; hair thinning in central scalp, frontal forehead areas or broadening at where hair is parted.
Alopecia areata – hair loss is sudden; circular, smooth bald patches appear; about 2.5 centimeters diameter size; affects scalp only initially but can extend to eyebrows, lashes and beard areas.  Prior to hair-fall, tingling and itchiness may be present.  Finger nails look pitted or ribbed.
Alopecia totalis – hair loss is complete, all over scalp.
Alopecia universalis – complete hair loss on body and scalp.
Telogen effluvium – sudden and rapid hair shedding after a physical stress or mental trauma incidence; diffuse hair loss pattern occurring only in women. Handfuls of hair fall out when brushing, washing, or combing.
Chronic telogen effluvium – alarmingly excessive hair loss of scalp upto 400-500 hairs can be lost per day ,persisting for more than 6 months and has a fluctuant course for upto 6-7 years,but without apparent cause.This severe thinning is seen in women in the fourth and fifth decade of life and results in prominent bitemporal recession.
Anagen effluvium – when chemotherapy causes sudden and rapid hair loss; can be all over the body and scalp; reversible after stopping chemo.
Cicatricial alopecia – caused by another medical condition; sometimes itchy rash develops with inflammation; hair follicles are completely permanently destroyed with scar tissue formation.
Seeking medical help
Symptoms that should alert you to get medical help before doing any hair loss treatments are
Sudden, rapid and large amounts of hair loss.
Patches of broken hair and itchy tendency to pull out hair.
Change in scalp condition like scaly patches, rash or tingling.
Hair loss coinciding with starting any medication.
Signs of bacterial infection like Hot, red patches, Swelling, Red inflamed scalp, Excess pain, Tenderness, Ray like red-colored streaks, Pus discharge & Fever.
Reference – 1, 2, 3, 4, 5 & 6.
From about 100,000 hair claimed to be present on human scalp, a routine hair loss of 100 hair per day should not cause palpable amount of hair loss. But excessive hair loss – more than 100 hair – can be due to a lot of causes like heredity, aging, diseases, medical side effects, stress, etc. Treatments for Hair Fall should be done at the earliest to prevent any further hair fall.
Causes
Causes to each kind of hair-loss can be different and varied.
Male (AGA) and female pattern baldness is due to – Heredity, aging and/or hormonal changes.
Alopecia areata – due to an autoimmune response to hair follicles.
TE & CTE – caused by diverse physical or mentally stressful events.
Anagen effluvium – from treatments like chemotherapy.
Scarring alopecia – medical conditions like lichen planus, bacterial/fungal infections, and scleroderma etc.
Untreated ringworm (tinea capitis)  most common cause of hair loss in children.
Scarring alopecia
Cicatricial alopecia – due to infection caused by bacteria/fungal growth, lichen planus, cutaneous discoid lupus, and scleroderma and traumatic injuries like mechanical, themal, chemical, electrical burns, traction, trichotillomania injuries etc.
Age
As people age, hair loss is common with thinning hair.
Hereditary hair loss
Androgenetic alopecia (AGA) (male pattern hair loss) – Some people are susceptible to hair loss due to inherited tendency from paternal, maternal genes. This makes them more sensitive to hormones called androgens which cause shrinking and weakening of hair follicles that result in hair loss.
Female pattern hair loss – somewhat similar to AGA; but occurs after menopause but sometimes even earlier; due to hormonal changes.
Autoimmune related
Alopecia areata; Alopecia totalis – due to immune system malfunction resulting in hair growth cycle disruption.
Medical condition related
Hair loss can happen due to diseases like Thyroid disease, Anemia, Lupus, Syphilis, & Untreated ringworm of scalp.
Traction alopecia
Hair loss can happen due to wrong type of hair-care like
Bleaching/dyeing frequently and improperly.
Frequent use of hair-care devices like flat irons, blow-driers etc.
Banding hair tightly with clips, bands, pulling back tightly.
Other causes
Anagen effluvium – due to chemotherapy.
Diet deficient in iron, protein and vitamin C & K ,zinc, etc can cause hair loss.
Due to hair shaft defect-hair fracture,hair nodes,hair narrowing, hair bands,unruly hair.
References – 1, 2, 3, 4, 5, 6 & 7.
When you go to your family physician with hair loss symptoms, your medical history and family history will be checked. A physical exam and scalp exam will be done so that the trichologist can have all needed information and he will order lab tests as needed. Hair analysis, biopsy may help to fix underlying medical condition correctly and start the right treatment protocol for successful outcome. This will eventually help your doctor to prepare a plan of hair fall treatments to ensure hair regrowth.
General medical history
The doctor will first ask about
Your past, present medical history.
Your family history.
Any thyroid involvement  or medication for same.
Details about any present healthcare concerns like heart problems, diabetes, arthritis etc.
Medications you take – both prescription and over-the-counter.
Your menstrual history (for females).
Any allergies etc.
Any recent history of any medical or surgical illness.
He will also check how balanced your diet is and whether you take any vitamin, iron supplements. He will ask about baldness and hair loss in other family members and what caused the hair loss. He will do a physical exam.
Hair loss history
To know what caused the hair loss, and before suggesting an effective hair fall treatment plan your doctor will ask questions about hair loss like
What are the characteristics?

Thinning hair, gradual diffuse hair loss, no noticeable amount of hair loss?
Sudden and rapid hair loss, like hair shedding – lots of hair falling out?
Any discernible pattern like receding hairline, frontal/central bald patches, thinning in specific areas or throughout the scalp?
Is the scalp showing?
Have you done any hair loss treatments before?
Did u find the patch of hair loss or your hair dresser?
How do the nearby hairs look?
How long since hair loss started?
Did you recently do any hair loss treatment?
Any symptoms like scalp redness, itching, flaking etc.
Any recent illness, injury, burn, or high fever?
Started on any new medication?
Do you dye, bleach, perm or color your hair?
Use devices like blow-drier, curling irons etc for hair styling?
What are the hair-care products you use?
Diagnostic procedures
The hair specialist will order complete blood and urinalysis to check for underlying medical conditions like diabetes, thyroid disease, and lupus.
Clinical test
Hair pull test-He will check your hair and pull gently several hairs for a pull test for determining stage of shedding.
Daily hair count-daily hair loss count crosses 100 it indicates pathological hair loss
Hair feathering-to asses the brittle nature of hair
Woods lamp examination-to diagnose fungal infection
Microscopic examination
Hair pluck test under microscope.
Phototrichogram-noninvasive method of studying the hair growth cycle.
Light microscopy of hair
Polarizing microscopy of hair
Electron microscopy of hair
Comprehensive Hair Loss Treatment Plan
Many treatment options for hair loss are possible. At The Bombay Skin Clinic our trichologist will prepare a detailed hair fall treatment plan including detailed prescription on topical, oral medications, hair growth treatments, food and diet tips etc.  Early diagnosis, treatment and containing hair loss are essential for successful outcome.