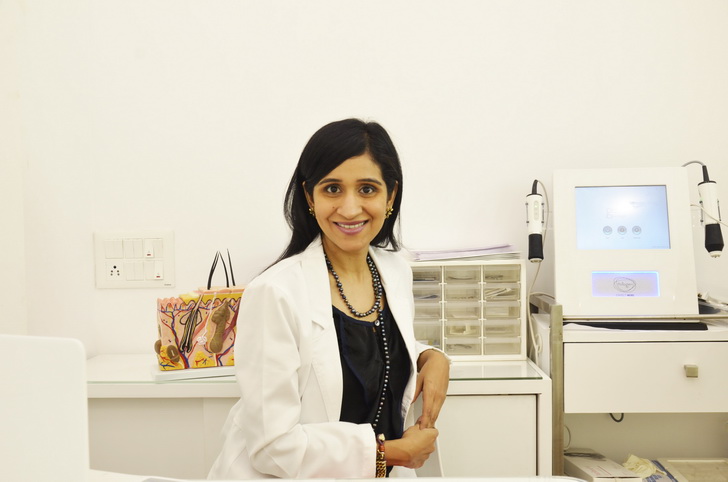 Dr. Batul Patel is a leading skin specialist in Mumbai with experience in dermatology, trichology and aesthetic dermatology. Having completed her M.B.B.S., D.D.V and M.D., she has successfully consulted and treated a wide variety of dermatological cases such as psoriasis, eczema, urticaria, alopecia areata.
Dr. Patel is passionate about making the lives of her patient better and has invested significant time in updating her skill set to better serve her patients. She has learned skin tightening, Botox and fillers under renowned doctors from USA and UK with advanced training from doctors in Hong Kong. Additional areas of expertise include thread lift, derma roller, laser hair removal, pigmentation, botox and advanced hair loss treatment. Dr. Patel is a regular participant at national and international workshops/conferences.
She is a member of IADVL (Indian Association of Dermatologist, Venereologists and Leprologists), CDSI (Cosmetic Dermatology Society of India) and IMCAS.
Her clinical specialization includes
Cosmetic Procedures:
• Chemical Peels – Cosmelan Peel, Retises CT Peel, TCA Peel, Glycolic Peel, Black Peel & Spot Peel.
• Facial Rejuvenation – Botox, Mesobotox
• Skin Tightening & Non-Surgical Face Lift – Microneedling with Radiofrequency
• Non Surgical Facial Reshaping – Fillers (Juvederm, Radiesse, Restylene, Perlane, IAL-ACP, Estheles, Forteles, Mesolis, Voluma)
• Mesotherapy – Mesogun, Mesoperfusion, Papular mesotherapy
Dermatosurgery:
• Dermaroller for acne scars and skin tightening
• Dermastamp for localized deep acne scar
• Radiofrequency – removal of mole, wart, DPN
• Electrosurgery and chemocautery for benign skin tumour
• Cryotherapy using liquid nitrogen
• Skin biopsy
• Nail surgeries
• Scar correction
Lights/Lasers:
• Hair Removal – Long pulsed Nd YAG 1064nm, Intense pulsed light (IPL) – Super hair removal (SHR)
• Q switched Nd YAG for tattoo removal, birth marks, freckles and melasma
• KTP for freckles, solar lentegenes, telangiectatic vein of rosacea
• PIXEL for skin resurfacing and acne scar
• Phototherapy – NBUVB, PUVA, targeted photo therapy
Trichology:
• Hair restoration techniques – Stem Cell (PRP), Microneedling and Mesoscalp
Body Contouring:
• Injection Lipolysis
• Radiofrequency with Ultrasound